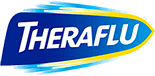 Theraflu Day and Night Cold and Flu Medicine
Hot Liquid Powder Value Pack
Tough cold and cough symptoms shouldn't get in the way of your day or sleep. With Theraflu Multi-Symptom Severe Cold and Nighttime Severe Cold & Cough, you can go about your day with ease, sleep peacefully and not have to worry about your worst cold and cough symptoms. Sip a cup of great tasting, powder-packed medicine that quickly goes to work on your worst cold and flu symptoms.
Dosing Information & Directions
Adults and children over the age of 12 should take 1 packet every 4 hours to treat symptoms of a severe cold and cough. Children under 12 should not take Theraflu Multi-Symptom Severe Cold Hot Liquid Powder or Theraflu Nighttime Severe Cold & Cough Hot Liquid Powder.
Dissolve contents of one packet into 8 oz. hot water: sip while hot. Consume entire drink within 10-15 minutes. If using a microwave, add contents of one packet to 8 oz. of cool water: stir briskly before and after heating. Do not overheat.
Do not take more than 5 packets in 24 hours unless directed by a doctor.