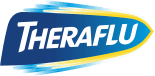 Day/Night Flu Relief Max Strength Hot Liquid Powder Value Pack
Honey & Lemon Flavor
Get up to 6 hours of relief with a fast acting, long lasting, max strength fever fighting formula. This soothing honey lemon flavored formula takes care of sore throats while providing relief from headaches, body aches, fevers and more so you can rest, recover and retake the day.
Dosing Information & Directions
For adults and children over the age of 12, take one packet every 6 hours, while symptoms persist. Do not take more than 3 packets in 24 hours unless directed by a doctor.
Children under 12 years old should not take Theraflu Flu Relief Max Strength Hot Liquid Powder.
Directions:
Dissolve contents of one packet into 8 oz. hot water.
If using a microwave, add contents of one packet to 8 oz. of cool water. Stir briskly before and after heating.
Sip while hot. Consume entire drink within 10-15 minutes.
Day/ Night Flu Relief Max Strength Syrup Value Pack

Day or night, your flu symptoms don't stand a chance when you take our Max Strength fever fighting formula. This formula provides up to 6 hours of relief from the worst of your flu symptoms, like headaches, body aches, and sore throats so you can take back your day or get the rest you need to recover.