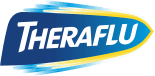 Nighttime Flu Relief Max Strength Syrup
Honey & Elderberry Flavor
You can count on this maximum strength fever fighting formula to get a peaceful night of rest when your flu symptoms are keeping you awake. This Honey and Elderberry flavored nighttime syrup provides up to 6 hours of relief from body aches, sore throats, fevers and more.
Dosing Information & Directions
Adults and children over the age of 12 should take 30 mL every 6 hours while flu symptoms persist. Measure the dosing correctly using the cup provided.
Do not take more than 3 doses (90 mL) in any 24-hour period unless directed by a doctor.
Children under the age of twelve should not take Theraflu Nighttime Flu Relief Max Strength Syrup.
Day/ Night Flu Relief Max Strength Syrup Value Pack

Day or night, your flu symptoms don't stand a chance when you take our Max Strength fever fighting formula. This formula provides up to 6 hours of relief from the worst of your flu symptoms, like headaches, body aches, and sore throats so you can take back your day or get the rest you need to recover.