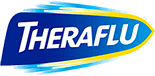 Theraflu Flu and Sore Throat Medicine
Flu & Sore Throat Hot Liquid Powder
Get soothing, powerful flu and sore throat relief with great tasting apple cinnamon flavor. Simply add Theraflu Flu & Sore Throat Hot Liquid Powder to hot water and sip while hot. Pour a tasty cup to quickly alleviate congestion, runny nose, and sore throat.
Dosing Information & Directions
For adults and children over the age of 12, take one packet every 4 hours, while symptoms persist. Do not take more than 5 packets in 24 hours unless directed by a doctor.
Children under 12 years old should not take Theraflu Flu & Sore Throat Hot Liquid Powder.

Directions:
Dissolve contents of one packet into 8 oz. hot water.
If using a microwave, add contents of one packet to 8 oz. of cool water. Stir briskly before and after heating.
Sip while hot. Consume entire drink within 10-15 minutes.
Theraflu Multi-Symptom Severe Cold Hot Liquid Powder

Relieve your night time symptom swith Theraflu Nighttime Multi-Symptom Severe Coldwith TeaInfusions, a fast-acting medicine to help fight cold & flu symptoms.
Learn more now.