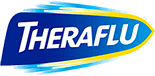 Theraflu Daytime Cough Medicine for Cough Relief
Hot Liquid Powder
Don't let your cough get in the way of your every day. Theraflu Cough Relief consists of maximum strength ingredients that go to work against your cough and chest congestion. The hot liquid 2-in-1 powder dissolves instantly to provide a warm wave of powerful relief for your symptoms.
Dosing Information & Directions
Adults and children over the age of 12 should take 1 packet every 4 hours to treat symptoms of a severe cough and chest congestion. Children under 12 should not take Theraflu Cough Relief Hot Liquid Powder.
Dissolve contents of one packet into 8 oz. hot water; sip while hot. Consume entire drink within 10-15 minutes. If using a microwave, add contents of one packet to 8 oz. of cool water; stir briskly before and after heating. Do not overheat.
Do not take more than 6 packets in 24 hours unless directed by a doctor.
Theraflu Multi-Symptom Severe Cold Hot Liquid Powder

Relieve your night time symptom swith Theraflu Nighttime Multi-Symptom Severe Coldwith TeaInfusions, a fast-acting medicine to help fight cold & flu symptoms.
Learn more now.