3 Reasons You're More Susceptible to Getting Sick in The Winter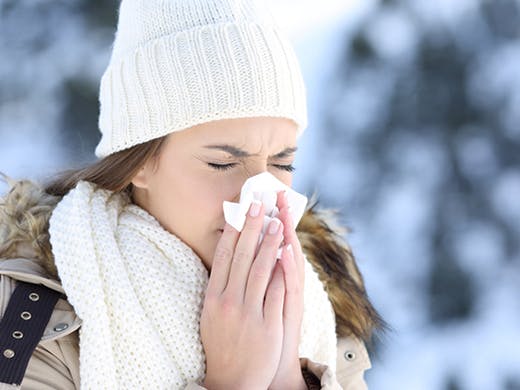 Winter can bring some great things with it, like skiing, ice skating, hot chocolate, and that cozy feeling when you're all snug in a blanket watching snow fall. But in addition to those fun aspects, it also seems to bring more cold and flu symptoms.
If you've ever wondered why you tend to get sick more often in the winter, Dr. Arielle Levitan, an internal physician with NorthShore Medical Group, has a few answers for you.
Certain Viruses Peak in Winter Months
"Diseases such as influenza are seasonal illnesses," Levitan says, explaining that while we can catch the flu all year round, flu activity peaks in the winter. According to Harvard University, one of the main reasons cases of the flu peak in winter is because the virus survives better in colder, drier climates.
Vitamin D Levels Can Decrease in the Winter
Germs Can Spread in Close Quarters
Many of us tend to hibernate during winter months, and since we are less likely to go outside, we spend more time in confined spaces. Less fresh air means more exposure to sick people, Dr. Levitan says, and indeed, a 2011 study done at Virginia Tech shows that dry, badly ventilated air may increase the spread of the influenza virus.
So what are our best lines of defense during the winter for avoiding the cold or flu? Hand washing and zinc supplements may help. Vitamin D supplements also show promise when it comes to protecting against the cold and flu.
If you find yourself coming down with the sniffles or a fever despite your best efforts, make sure to treat the symptoms right away with a cough and cold symptom treatment like Theraflu PowerPods. Pop one of the pods into your single-serve brewing machine, and sip on a soothing cup of Theraflu, which provides powerful medicine at the press of a button.